Welcome to our website. You may be here because you are considering making a change, whether it be building a new home or remodeling a current one. Navigating the myriad of available information to discover a building plan to meet your needs can be a challenge. We're here to help!

SUN DESERT HOMES is a family owned company located in New Mexico.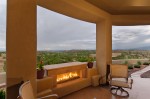 For over thirty years we've designed and built custom homes that are compatible with the land and inviting retreats for owners. We bring equal experience and commitment to remodeling. Great value, personalized service and keeping a watchful eye on every aspect of the building process are our standards. 
Your questions concerning any building projects are welcome, no matter what their size or scope. We invite you to Contact Us for a complimentary consultation before you build or remodel your home.